As Oregon reaches the three-year anniversary of passing its trailblazing law decriminalizing hard drugs like heroin, meth and cocaine, death and devastation are pushing many to plead for its reversal.
Opioid-related deaths in the Beaver State have skyrocketed to 955 this year, up from 280 in 2019 before the law – Measure 110 – was passed with 58% approval.
"This breaks my heart," Michael Bock, a private security guard in Portland, said of the drastic change Monday on "America's Newsroom." "What happened before 110 got passed was that I revived zero people. Since 110's passing, it's almost daily…
OREGONIANS SUPPORT ENDING DRUG DECRIMINANLIZATION AMID RISING OVERDOSES, 'RADICALIZED SOCIAL JUSTICE MOVEMENT'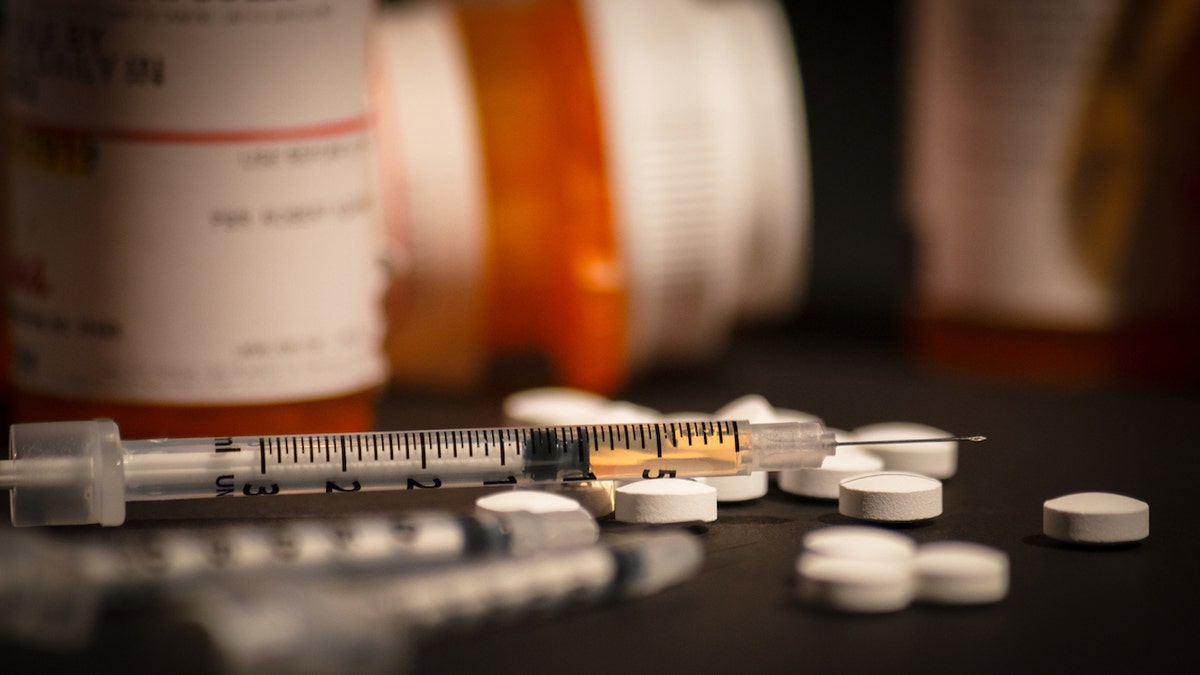 "These are our friends. They are brothers, fathers, sisters, cousins… we're talking about the loss of life, and we have to do something different. This is serious," he continued.
According to an August poll from Emerson College, a 56% majority of Oregonians now support overturning the law, which made possession of some illicit drugs punishable by a maximum $100 fine which can be avoided with a "health assessment" – a 24/7 phone service that will help determine what services the person calling might need.
An even larger number of Oregonians — nearly two-thirds — supported repealing parts of Measure 110 to restore penalties for possessing drugs, according to the poll, while only 36% believed it should be left as is.
VOTERS' REMORSE: BLUE STATE SURVEY SHOWS MAJORITY WANT TO RE-CRIMINALIZE DRUGS: 'WE MADE AN ENORMOUS MISTAKE'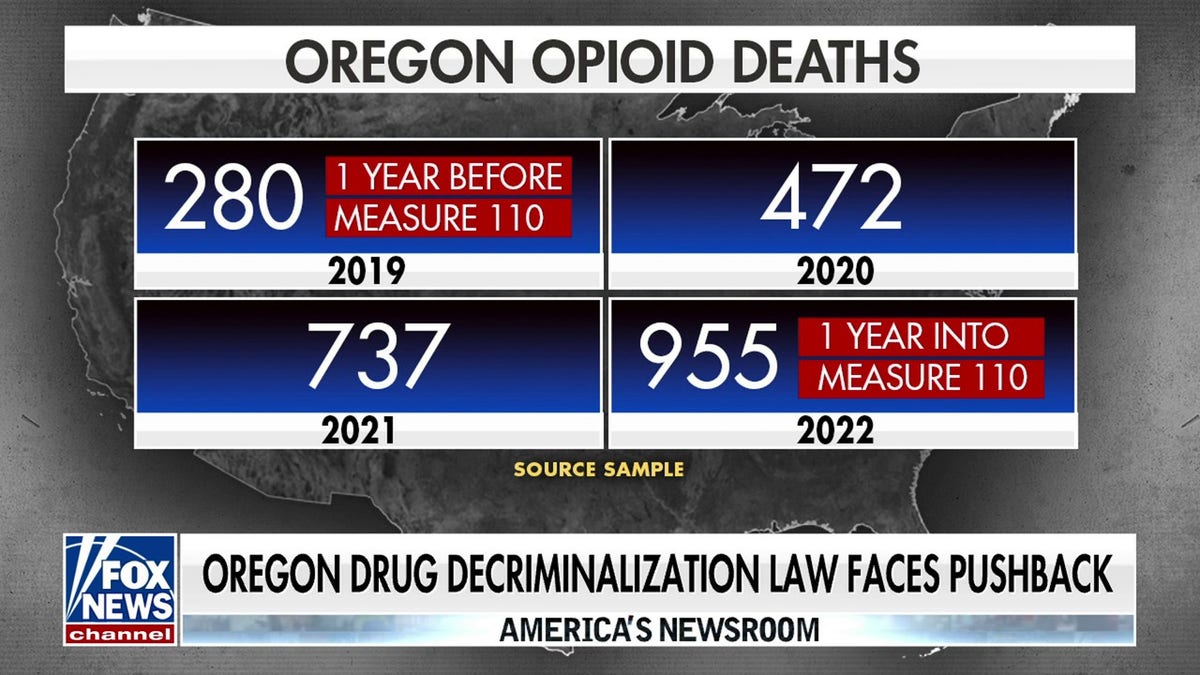 The poll also found that 54% of Oregon voters believed the measure exacerbated homelessness in their communities while 50% said their communities were less safe as a result.
On the ground, Bock says drug-related deaths are a "regular occurrence" since the measure took effect, and is calling for change to save lives.
"The people out here who are burdened with this addiction are being cast to the side, and it's really, really heartbreaking," he said.
"I can't speak to what others see or do, but I can tell you from boots on the ground, this is tragic, and it's got to change."
The bill initially aimed to keep those struggling with addiction out of the prison system by opting for more health services.
BLUE STATE LAWMAKERS PASS DRUG POSSESSION BILL IN RUSH TO AVOID DECRIMINALIZATION DEADLINE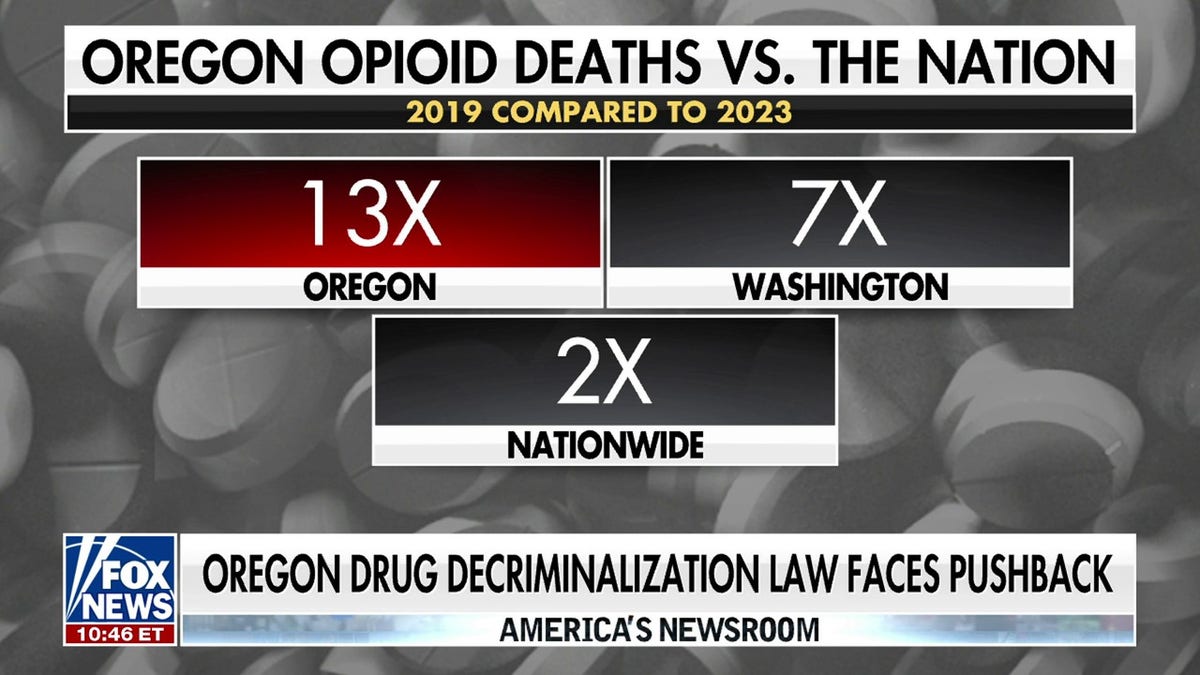 "People suffering from addiction are more effectively treated with health care services than with criminal punishments," the bill read. "A health care approach includes a health assessment to figure out the needs of people who are suffering from addiction, and it includes connecting them to the services they need."
Critics at the time argued the measure was experimental, with the state being ill-equipped to handle the dramatic change.
"Right now, people need to come together and realize that this is just an incredible burden, an incredible crisis, and that people out here, that myself, my coworkers, the rest of my team are interacting with are real," Bock added later. "This didn't work."
For more Culture, Media, Education, Opinion and channel coverage, visit foxnews.com/media.
FOX News' Kassy Dillon and Peter Aitken contributed to this report.