A rural Washington community rallied around a local business owner who lost his home, and nearly his livelihood, when a raging fire destroyed his property, video shows.
"We were driving into town and I saw smoke and I said to my [son Nate], 'Oh it looks like somebody's burning a pile of weeds.' And then all of a sudden we saw black and I go, 'Nate, it's not weeds. We got to go see if somebody needs help,'" Washington state farmer Sam Krautscheid told Fox News Digital of the fire they spotted on Oct. 21.
Video provided to Fox News Digital shows a raging fire ripping through a home in George, Washington – a rural town in Grant County that Krautscheid said is home to roughly 350 people. Surrounding the home were trucks, a garage and equipment the homeowner uses to operate a landscaping business, Krautscheid and local resident Heidi Hobson both told Fox News Digital.
The couple who owns the property and their children were not home at the time of the fire, the locals said.
NEIGHBOR HELPS FAMILY IN DRAMATIC HOUSE FIRE RESCUE: 'HE'S A GIFT FROM GOD'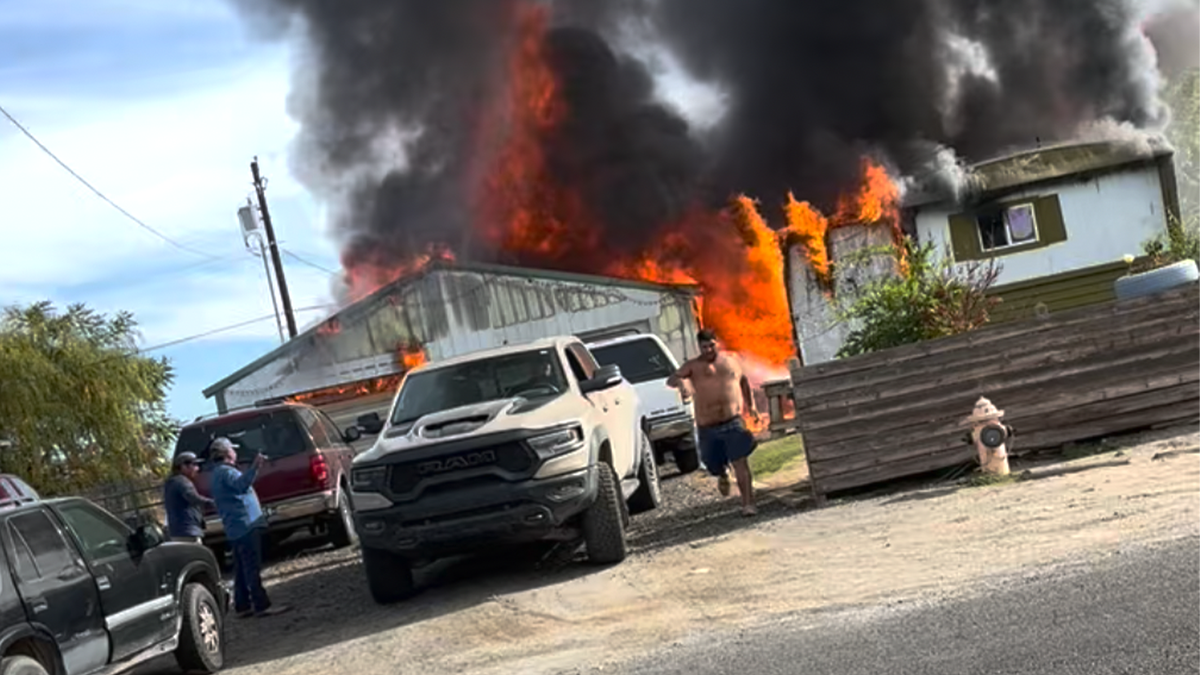 The video shows Krautscheid, who did not know the owner at the time of the fire, pulling the homeowner's truck from the driveway as another neighbor on foot helped guide him away from the property. Krautscheid noted he is familiar with fires through his work on the farm, but said the one at the home was "a different hot" that melted the doors off the property's garage.
The homeowner "is a manual laborer and is finishing up fall harvest right now. but he runs a landscaping business and that was his landscaping truck," Krautscheid said. "So he's able to keep his job going."
NJ COMMUNITY RALLIES TOGETHER FOR ARMY VET AND HIS FAMILY WHO LOST EVERYTHING IN CHRISTMAS EVE FIRE
Krautscheid's son posted the video to Instagram, which has since racked up nearly 30,000 likes and thousands of views. Krautscheid said he and his family were shocked by the attention garnered by the video, and lamented how some commenters claimed the fire was sparked by a meth lab explosion. Comments on the video have since been deactivated.
"That's the absolute furthest from the truth. There's five people that live in that house. And they're honest, hardworking Americans," Krautscheid said.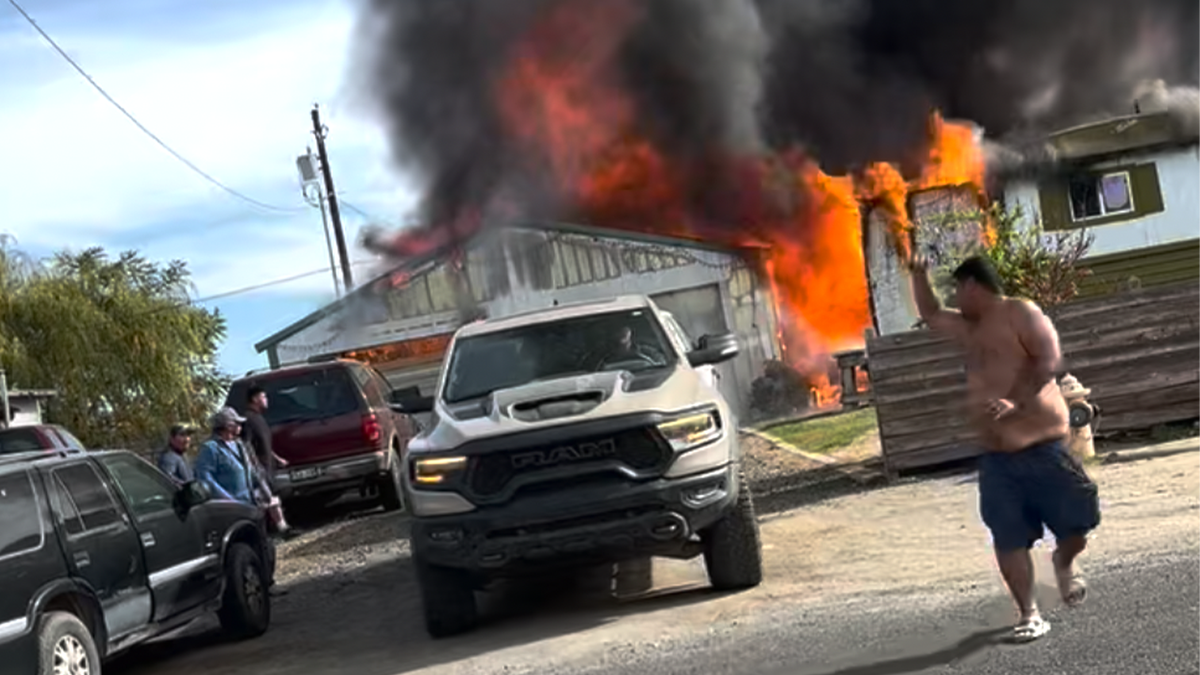 The fire destroyed the house, but some of the homeowner's equipment for his landscaping business were saved thanks to neighbors rushing to help the family while volunteer firefighters extinguished the flames.
"The volunteer firefighters are the real heroes… none of these people are paid and they drop whatever they're doing with their families and their jobs… and they show up," Krautscheid said.
PASSERBY HELPS SAVE SLEEPING RESIDENTS, DOG FROM HOUSE FIRE
Grant County Fire District #3 told Fox News Digital an "accidental cooking fire" sparked the incident, while lauding "the remarkable and compassionate actions of our community."
"Before and after the incident, the community's response has been nothing short of impressive. From the moment the incident started, individuals, businesses and organizations rallied together to support the affected family in their time of need. This is a testament to the unwavering spirit of solidarity within our community and the Fire District itself," Deputy Chief of Operations David Durfee told Fox News Digital on behalf of the fire department.
Fox News Digital also spoke with local resident Heidi Hobson, who helped clean up the property and said she asked the homeowner what would be most helpful to him and his family after they lost their home.
"The only thing that mattered to him was that he had his family and that they were safe and that's all that mattered and nobody was hurt," she said. Hobson noted that the homeowner, who did not respond to Fox News Digital's request for comment, did not want a GoFundMe page established, only wanting "thoughts and prayers."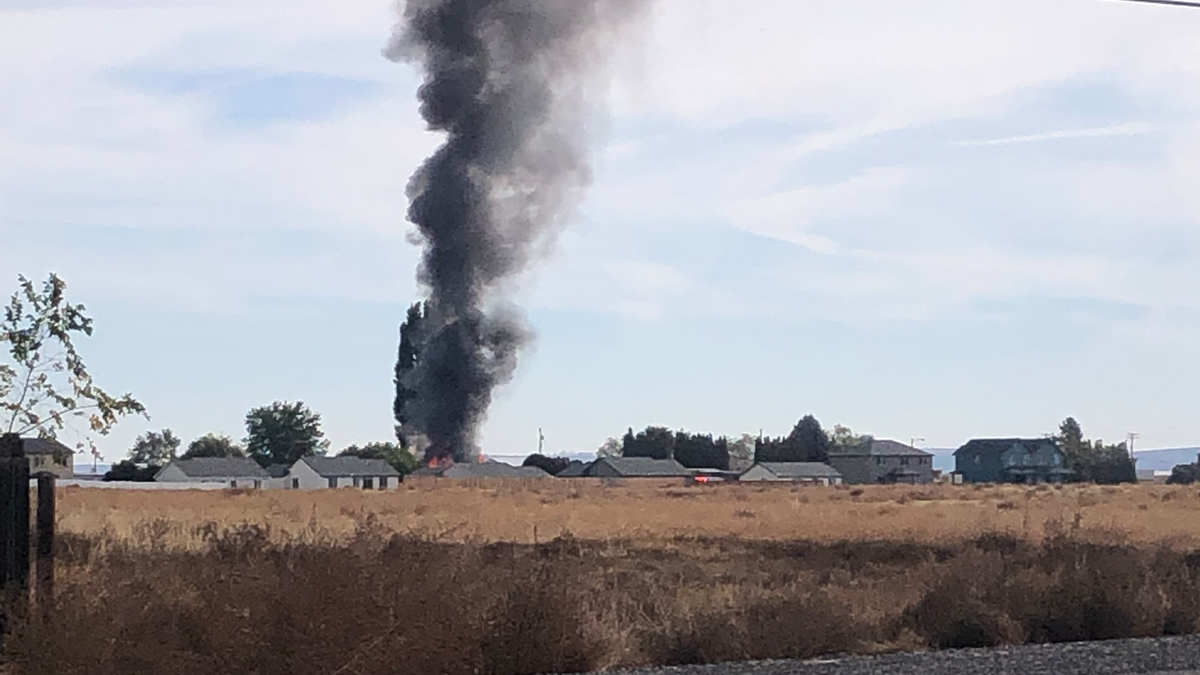 Hobson said she and other community members spent hours at the home following the fire collecting debris and tossing it into a dumpster.
"Then a farmer brought over his excavator. We were able to tear things down and separate the metal from garbage, and so basically just tidying up a lot so that him and his family can start fresh," Hobson said.
Local businesses even stepped in to help, Hobson said. A heating and air business reported to the home to unhook appliances so they could safely be removed, the local grocery store donated bottled water and soda to the cleanup crew, and local agriculture machinery shops donated equipment to the homeowner to replace some of the implements he lost in the fire, she explained.
WEST VIRGINIA FIREFIGHTERS RESUSCITATE DOG FOUND NOT BREATHING AT SCENE OF FIRE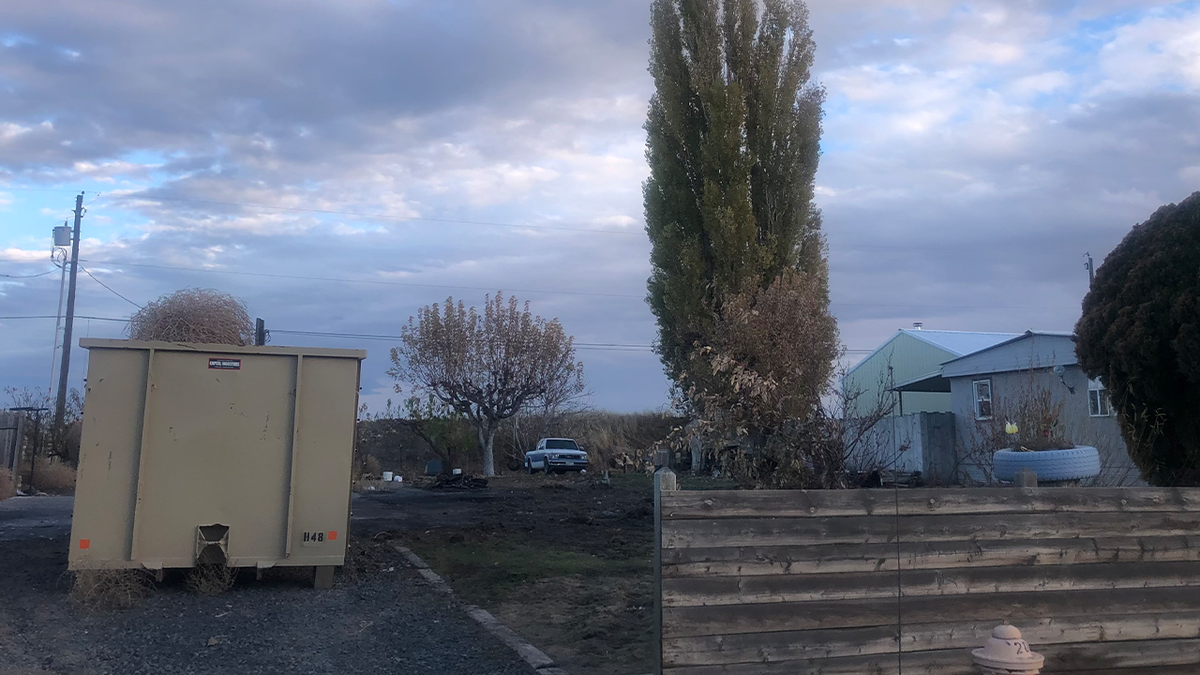 "This is small town America," Krautscheid said of why locals stepped up to help their neighbor.
Hobson said she didn't know the homeowner well before the fire, but now calls him a "forever friend." When tragedy strikes in small towns, she said, neighbors "help where you can."
"Whether it be with meals or helping with your time, or equipment, or financially, or helping with the kids or things like that. Everybody has their own way of pitching in," she said.
CLICK HERE FOR THE FOX NEWS APP
The family is currently living with other family members after the home was destroyed, Hobson said.
"Grant County Fire District 3 would like to express our deepest gratitude to all those who contributed to this collective effort. Their compassion and selflessness have alleviated the immediate needs of the impacted family and underscored the strength and cohesion that characterize our community," the fire department added in a comment to Fox.